Ellen DeGeneres Wins Choice Twit Teen Choice Award

aceshowbiz.com reports: The on-going Teen Choice Awards has announced some of its early winners and Ellen DeGeneres is one of them. The talk show host brings home the Choice Twit prize at the 11th annual awards show which is held at Universal Studios Hollywood's Gibson Amphitheatre in Universal City, Calif.

Taking the stage to accept her gong, Ellen is quoted as telling the audience, "Over two and half million of you are following me, and I still don't know where we're going. I found out a lot of you are following each other. So apparently we're in a big circle." She then jokingly says, "I have celebrity phone numbers, and I'm going to give them out on my Twitter. I just got Zac Efron's a minute ago. I said this is just for me. And Robert Pattinson, I think I have his number.

Greater than that, on the same event Ellen also announces that she will give away $1,000 randomly to someone following her on Twitter starting from next week. "You can apply that toward your college education or to give to someone to help buy you beer," she goes on joking.

Some other early winners at this year's Teen Choice Awards include Zac Efron, Chace Crawford, and Leighton Meester. More awards winners, meanwhile, will be announced soon.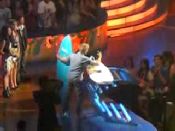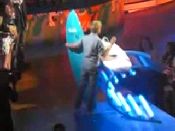 Related Links:
- Forumthread @ Ellen-DeGeneres.com
- Download "Ellen at TCA 2009 - Twit of the Year - FLV" @ Ellen-DeGeneres.com
- teenchoiceawards.com
- aceshowbiz.com